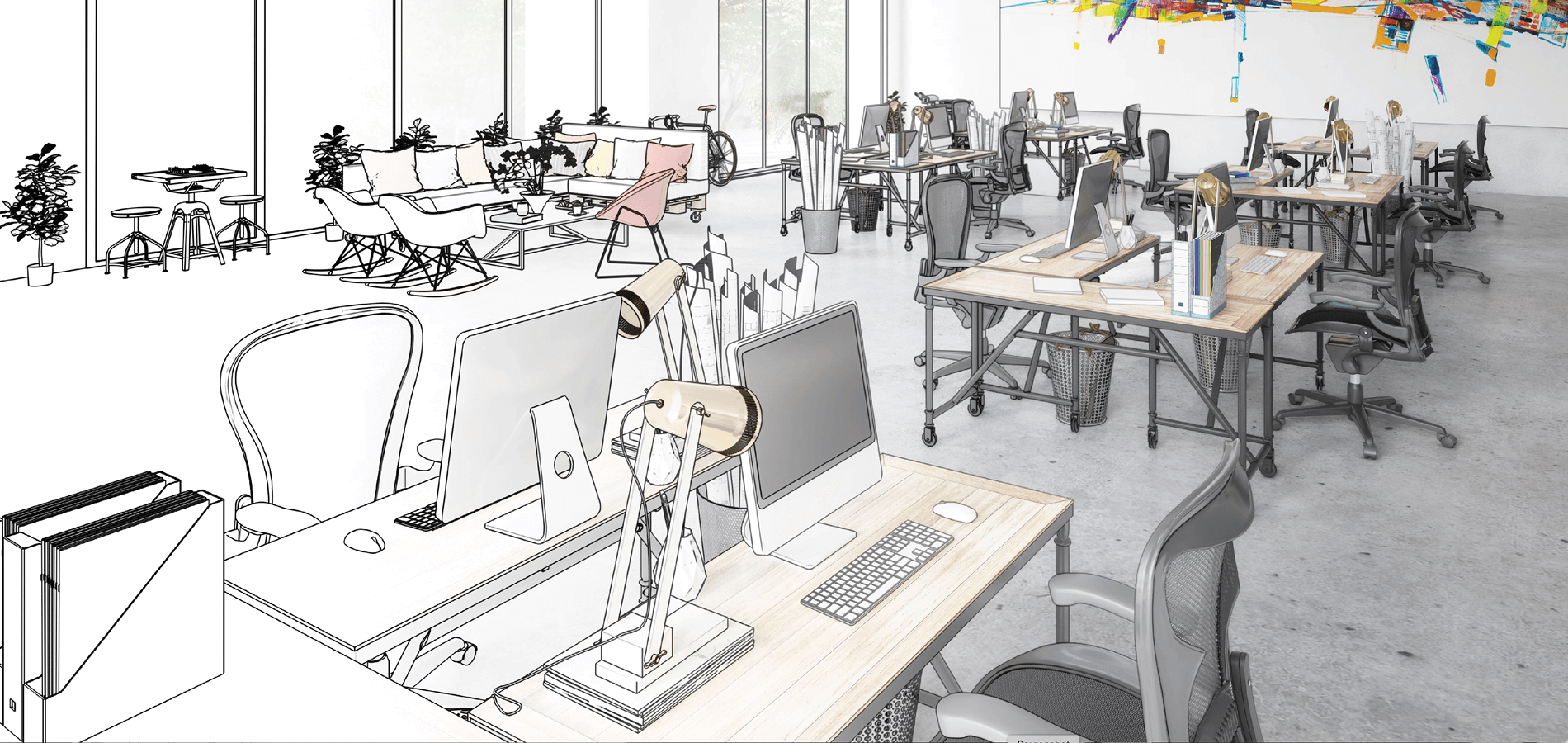 What factors will contribute to staff feeling safer? What's the right density of people in the office that allows everyone to worry less and buckle down more? Steelcase has tried to answer some of these questions with its "Changing Expectations and the Future of Work" study. After evaluating responses from 32,000 individuals, the study's authors show that physical boundaries and wise utilization of the available footprint are among the top five employee concerns. If those concerns aren't met, workers would prefer to work remotely, even if they feel isolated from colleagues.
Making Returning to the Office a Reality
Not every company will have the resources or internal support to offer employees a complete working arrangement overhaul. Nonetheless, organizations should be open to virtual-first thinking based on the rise of a few modern office design trends.
Flexibility is the answer to uncertainty.
The truth is that we don't know what offices will look like in the future. As the demands of modern workers change, businesses need to be ready to meet their expectations as soon as possible. Key features such as smart locks and agile storage such as personal lockers will allow business owners to maintain flexibility and a great employee experience.
Modular furniture systems are getting their day in the sun.
Even companies that have decided to keep their Plexiglas barriers are experimenting with modular furniture system pieces that make rearranging layouts intuitive and fast. Movable furniture allows workers to create an office space design that's comfortable for their needs. Plus, many manufacturers and brands of modular office furniture have made sure their items are on-trend from a design perspective.
Employees expect access to personalized storage.
As employees spend less time in the workplace, they won't have as much need for personal desks or offices. That means they'll need storage solutions for their personal belongings — and it needs to be a system they trust.
Wireless lock systems like Digilock's 6G product lineup help. These locking systems are touchless and leverage Bluetooth connectivity to allow for remote set up, access, and data collection. Approved users can be admitted access to storage containers including drawers, lockers, or desktops. Additionally, managers can maintain a complete record of when battery-powered locks were activated, ensuring tremendous privacy — and legally and ethically required client confidentiality.
Stakeholders want a fresh feel to working spaces.
Employees, visitors, vendors, and customers expect something different when they walk into offices after the pandemic. Without smart building technology and additions like DigiLink smart lock ecosystem with 6G smart locks, employees might not feel as comfortable heading back to the office. Therefore, companies of all sizes need to investigate the smart building system agile solutions on the marketplace to remove any lingering doubts about the organization's commitment to a healthier, safer human experience.
No one can predict the future of workplace design. Nevertheless, we all get the exciting chance to shape it. By looking through a virtual-first, post-pandemic lens, corporate leaders and facility managers can design workplaces buoyed by smart building systems that will allow workers to perform their best in a changed world.
Learn more about how Digilock can help you return to the office by contacting a knowledgeable Digilock Product Specialist.